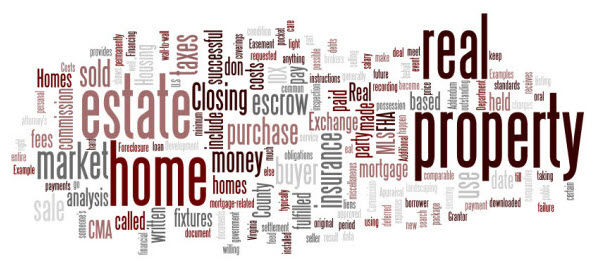 Boy there are a lot of terms that get thrown around by real estate agents and I wanted to take a few minutes to share some common definitions that you need to know when you are buying a house. Rest assured, I will be by your side every step of the way in the home buying process to ensure that you know exactly what is happening! You will never be left wondering what happens next.
Market Value - this is the price that a house is worth on the market. Only a licensed appraiser can tell you what the "value" is, but a skilled REALTOR can help you with a Comparative Market Analysis (CMA) to help you determine if the sales price is right before you put an offer in to buy a house.

Location - This is all about proximity to desirable amenities in the area of your house. What type of features does the area you want to live in need to have?

Season -What is the best season to look for houses? More homes sell in the spring and summer, which creates a lot of competition, but fewer people are looking to move in the fall and winter after school starts. If you are flexible with your moving times, you might be able to score a great deal in the slower seasons if the seller is motivated to sell.

Days on Market – This is the number of days that your house has been listed on the market. A house that sits on the market longer can be due to a few things:
Overpriced
Condition issues
Seasonal issues
Inventory - You may have heard this mentioned. It's the number of homes for sale at a given time. A small amount of inventory means there is a high demand for homes and therefore the prices will be higher.
Buyers Market - This happens when sales are slow and there is more inventory. This means buyers have more houses to choose from so sales prices will typically be lower.
Sellers Market – This is when inventory is low and buyers are often competing with each other for the same house creating "multiple offers" to buy. Sales prices are usually higher during times of a "sellers market".
Balanced Market - This is a transitional phase between a buyers market and a sellers market when neither has an advantage over each other.
Median Sales Price – The midpoint between the most expensive house and the least expensive house sold in an area during a specific time period.
Appraisal - A lender will send out a licensed appraiser to inspect the property and assess their opinion of the "value" based on the current market and home features compared to other similar properties that have sold recently.
Inspection - This is the licensed home inspector that you hire who comes through and looks very closely at all the cracks and crevices of the home you are looking to buy to find any problems that you might need to be aware of before you purchase the house.
Mortgage - The money to buy a house has to come from somewhere. If you don't have the cash to buy the house, you will take out a loan that is paid out over a period of time. This is called a mortgage loan.