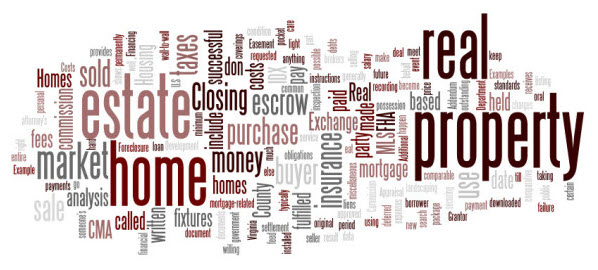 There is a lot of lingo thrown around in the real estate industry and I wanted to take a moment to put together some common definitions that you need to know when you are going to sell your house. I can walk you through the whole process to make sure you understand what is happening when you sell your home.

Market Value - this is the price that your home is worth on the market. Only a licensed appraiser can tell you what the "value" is, but a skilled REALTOR can help you with a Comparative Market Analysis (CMA) to help you determine what your home could potentially sell for in the current market.
Location - This is all about proximity to desirable amenities in the area of your house.
Season - is it the right season to list your home for sale? More homes sell in the spring and summer, which creates a lot of competition, but fewer people are looking to move in the fall and winter after school starts.
Condition of the home - does your home have strong curb appeal or attractive features or is it a fixer upper? I will be able to help you price it right depending on the condition of the home and market expectations.
Days on Market - This is the number of days that your house has been listed on the market. A house that sits on the market longer can be due to a few things:
Overpriced
Condition issues
Seasonal issues
Inventory - You may have heard this mentioned. It's the number of homes for sale at a given time. A small amount of inventory means there is a high demand for homes and therefore the prices will be higher.
Buyers Market - This happens when sales are slow and there is more inventory. This means buyers have more houses to choose from so sales prices will typically be lower.
Sellers Market - This is when inventory is low and buyers are often competing with each other for the same house creating "multiple offers" to buy. Sales prices are usually higher during times of a "sellers market".
Balanced Market - This is a transitional phase between a buyers market and a sellers market when neither has an advantage over each other.
Median Sales Price - The midpoint between the most expensive house and the least expensive house sold in an area during a specific time period.
Fixtures - These are items that are staying with the house. Things that are bolted to the wall or planted in the ground. When I take a listing, I walk through the home with the seller to discuss fixtures. If personal property is affixed or fastened to real estate, it becomes a fixture. Fixtures become real property when they are attached to the property. If you're attached to something that's attached, then take it down or replace it before we list the house and take photos so the buyer doesn't expect it to be part of the purchase.

Price Discount - the difference between the initial list price and the final sales price which is usually expressed as a percentage amount.